Hello, everyone!
In this post, we would like to discuss hiring and employment types in Japan, which are very different from Western (American/European) companies.
◆Typical hiring style in Japan
In short, hiring in Japan is similar to a membership: employees are members of the organization. In other words, rather than hiring based on job requirements, Japanese companies hire new graduates and young potentials all at once and train their work skills, presuming that they will work at their company until retirement. Large conglomerate companies tend to hire under such a scheme.
Note: this type of hiring is only valid for *permanent employees. (*more about employment types follows)
On the one hand, as Japanese style hiring focuses on potential, companies usually provide extensive training programs and support; on the other hand, because there is no clear job description, employees have to follow the company's direction on job tasks.
Recently, mid-career job changes have increased in Japan, and many international companies have shifted towards a job description- / experienced-based hiring system.
—————————————————————————–
◆Different types of employment in Japan
As commonly seen in the news, there are several types of employment, including permanent, part-time, haken, contract, etc.
Employment type will have a significant impact on your daily way of working. It is crucial to understand each type and understand its advantages and disadvantages.

Generally speaking, there are two major types, regular (permanent) and non-regular employment. All the non-permanent hiring will be categorized as non-regular hiring.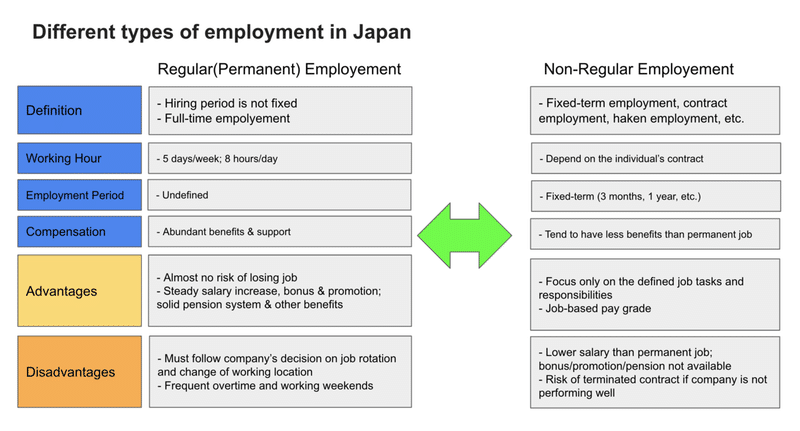 Generally, there are two major types, regular (permanent) and non-regular employment. All the non-permanent employment we categorize as non-regular hiring.
—————————————————————————–
In this post we discussed hiring in Japan and its characteristics. Based on your preference and targets, make sure to consider the different options when planning your job hunting.
We will continue to share helpful information on job-hunting in Japan. See you next time!
Author: Ayae Hosoya (Living in Peace)
Translation: Jiujiu Dai (Living in Peace)