Hello everyone!
In this post, we would like to discuss visas and how to renew them when onboarding a new job. Please feel free to share this with your family and friends who may find this post helpful.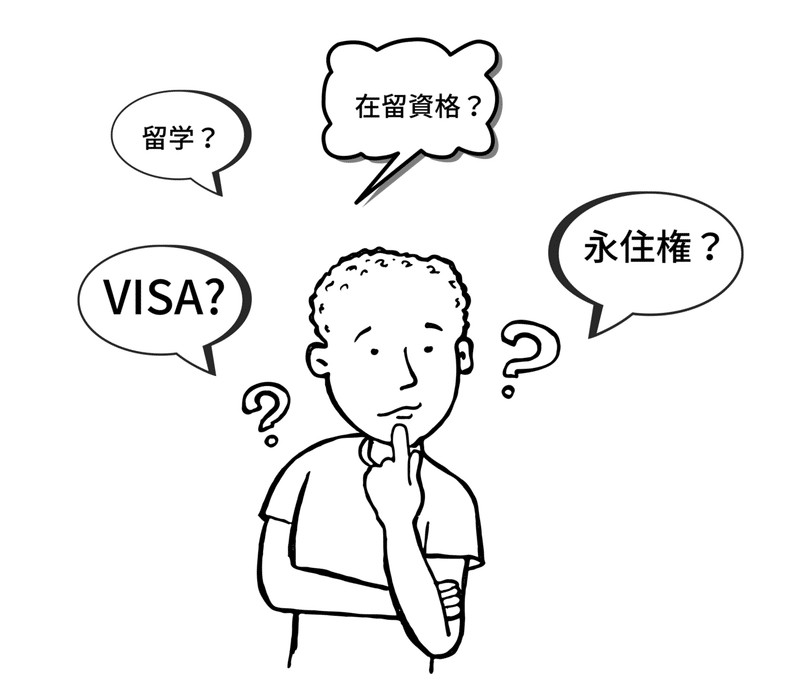 ◆What is a visa?
In short, a visa is your permit to enter the country.
As evidence for entry permission, it is an absolute must for all foreigners who wish to enter Japan for work or study. The Japanese Consulate or Embassy is responsible for issuing visas.
◆What is status of residence?
More than ten types of status of residence are issued to foreigners who reside in Japan; each type defines specific rights to its holder. Status of residence can be applied simultaneously as a visa and is issued after completing the Certificate of Eligibility (※).
In Japanese, a certain type of status of residence could also be called 〇〇 visa. (i.e. working visa)
※Certificate of Eligibility (CoE)
CoE is the standard procedure to obtain residential status in Japan. The Ministry of Justice issues the certificate based on the applicant's submitted application documents, which should list and prove the intended activities in Japan. The sponsoring company/school usually submits this application on behalf of the applicant.
In the case of long-term residence, a residence card is issued after entering Japan. (If the stay is less than three months, it is sealed on your passport)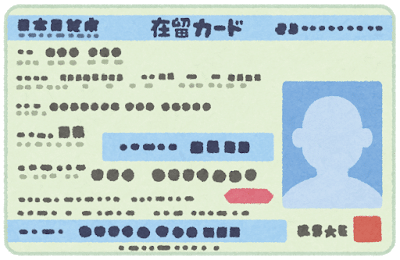 The most common status of residence are the student visa and working visa, respectively. There are three validity periods for a working visa: one year, three years, or five years (the longest).
Working permission varies depending on the residential status.

Please also check details on the immigration office's homepage:
◆Permanent Residence
There is no time restriction for those who hold permanent residency. In addition, permanent residents are free to work in any field.
To obtain permanent residence in Japan, applicants need to live in Japan consecutively for ten years, or:
1) Exhibit good behaviors
2) Prove that they can support themselves (assets/work/skill)
3) It is in the applicant's and Japan's common interest to grant them permanent residence
(※(2) is not a MUST in the case of a refugee applicant)
◆Offer and Renewal of Status of Residence
People may change their status of residence depending on their situation.
For example, an international student who studied in Japan and received an offer to work in Japan following graduation can change their student visa to a working visa.
The procedure is as below: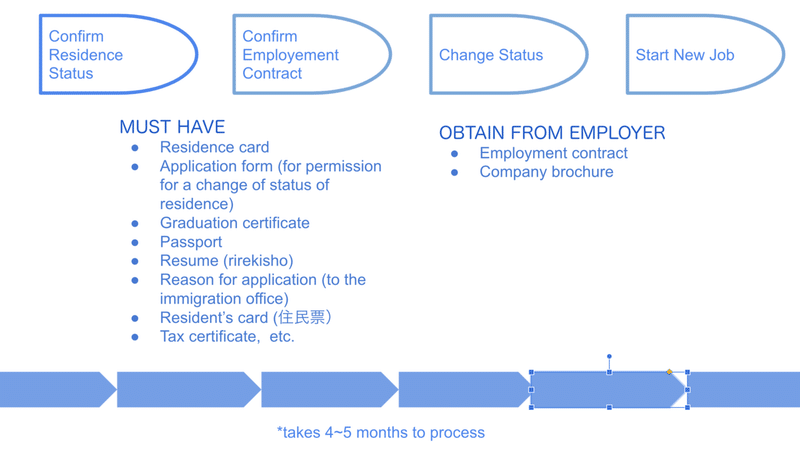 Generally, it takes 4~5 months to process the application. Therefore, if you wish to receive it by April, it is best to start no later than January.
Also, when changing jobs, for example, from chef to recruiter, it is required to change your status of residence from the previous job to the current one.
◆Job Searching After Graduation
There are situations where job searching continues after college graduation.
In these cases, status of residence has to be changed from student visa to [Designated Activities], which targets foreigners who search for work after graduating from university or technical college.
※Designated Activities: those who have been searching for a job before and after graduation can obtain residential status for 180 days at most
◆Vacant Period Before Joining Company
In the case that residential status will expire before their job start date, it is necessary to change it from[Designated Activities] to [Waiting for Job Offer] (not Job-hunting, as above). But, again, please check with the employer and submit the appropriate application.
You may apply for status change anytime during its valid period. However, if it expires, the process becomes more complicated, and you run the risk of losing your status and visa altogether.
Considering the processing time and job-hunting schedule, be sure to plan.
—————————————————————————–
We will continue to share helpful information on job-hunting in Japan. See you next time!
Please hit the heart button below. Your support goes a long way and allows us to continue providing this content.