Hello everyone!
At Living in Peace (LIP), we are supporting refugees in Japan on Japanese job-hunting process. Job-hunting in Japan has some unique characteristics:
・University students begin their job-hunt in their junior (3rd) year
・Companies tend to make hiring decisions based on personality rather than experience and skills
・Student evaluations take into account the student's academic performance (grades) as well as their extra-curricular activities
・Strict dress code: "Job-hunting" suits (also known as "recruit suits")
・Most internships are short-term, including one-day internships
These points could be obstacles for foreign students if not known beforehand. The first challenge the students we support face is simply starting their job search due to a lack of information. In this post, we will introduce more about job-hunting schedules in Japan to help those who are unfamiliar with the process.
◆The job-hunting season generally ends before September in the senior (fourth) year of college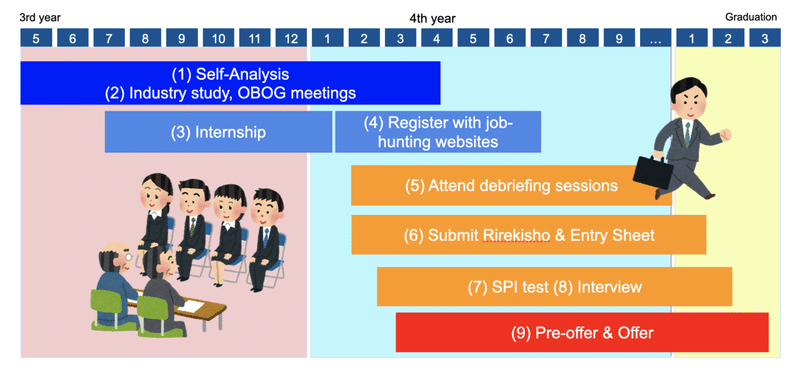 These are the critical points for international students who would like to look for work in Japan:
Many Japanese companies start to hire new graduates from the spring to summer of senior year of college. On October 1st of senior year, companies will hold an "Offer Ceremony" (Naiteishiki) for those who received an offer. For this reason, most companies stop hiring from October in the senior year.
There are also venture capital companies that hire on a rolling basis, though this is rare. If you have graduated from university, job-hunting will become more challenging, which is why we strongly recommend beginning job-hunting in your junior year of college.
※ Based on info from Oct, 2020. Please be mindful as the hiring process/schedule differs from company to company.
◆From June to February of your junior year, you should focus on preparing for your job-hunt
Most companies conduct job-hunting seminars and hiring sessions (interviews and written tests, etc.) from March in the junior year to June in the senior year.
Before this, there is much preparation to be done. During the summer to fall season in the junior year, many companies offer internship opportunities. If there is a company you are interested in, it is best to participate in the internship program they offer.
When it comes to internships in the US or Europe, internships are typically long-term, aiming at "learning practical skills and getting experience for real work." However, in Japan, most internships are short-terms that last from one day to several days, closer to a "professional working experience seminar."
Also, during this time, there will be many job-briefing sessions as well as job-hunting events. To have a good start, we recommend participating in these events while learning more about the industries and analyzing more about yourself.
◆Hiring process (interview, etc) starts from March of junior year
Most companies start their hiring process in March of junior year. To get started, you can register with job-hunting websites (Rikunabi and Mynavi, etc.) and make reservations for company information sessions. There are also websites that orient toward international students.
When you pass the hiring process, you will receive an "offer" (naitei), an employment agreement contingent on your graduating university. Once you receive an offer from your target companies, congratulations! Your job-hunting activity is done, and you can focus on schoolwork to ensure you graduate as planned.
Additionally, on Oct 1st of your senior year, companies will invite other offered students to a ceremonial event called a "Naiteishiki." During this event, they will introduce the company's history and working life at the firm. Typically following this event are social gatherings to meet your fellow incoming colleagues.
◆Reference: job-hunting information websites for international students
There is information about job-briefing sessions and events on these job-hunting websites specified for international students. Let's check before the job-hunting season officially starts.
※ There will be an English version of this post soon.
https://note.com/embed/notes/n0a6eaa37794e
—————————————————————————–
In this post, we summarized the job-hunting schedule in Japan.
We have also prepared posts that help international students to get ready for the standard process of job-hunting in Japan, such as "How to write an entry sheet." Please check them out!
Author: Daisuke Mukai
Translation: Jiujiu Dai